Avast SecureLine VPN
A simple, fast, and hassle-free VPN – but there are some downsides when it comes to features.
Avast SecureLine is an easy to use VPN from the popular security vendor Avast Software, but underneath it is powered by the HideMyAss! network (HideMyAss! is a part of the Avast group).
SecureLine's network only has 700 servers (the top providers have thousands), but they're well distributed across 58 locations and 36 countries. P2P support is available from eight locations. 
There are apps for Windows, Mac, iOS and Android, while desktop users get Chrome and Firefox extensions. 
Avast allows you to use the VPN on up to 10 devices. Sounds good, but keep in mind this is a device, not a simultaneous connection limit. Once you've set up the VPN on 10 devices, you won't be able to install it on others until you deactivate it on one of the 10 existing pieces of hardware. 
Avast has been busy adding many more features since our last review. The apps don't just support the OpenVPN protocol, for instance: there's beta support for the ultra-fast WireGuard, and a stealth Mimic protocol to bypass VPN detection and get you connected in even the most VPN-unfriendly locations. And whatever you're using, a kill switch keeps you protected if the connection drops.
But SecureLine's best new features are focused on ease of use. There's none of the manual setup hassles you'll usually see elsewhere, for instance; once you've got the service running on one device, a Pairing scheme configures it for others in seconds. And a Smart VPN mode keeps you safe by automatically enabling the VPN when you most need it, such as when accessing public Wi-Fi, using torrent apps, visiting banking websites or streaming videos.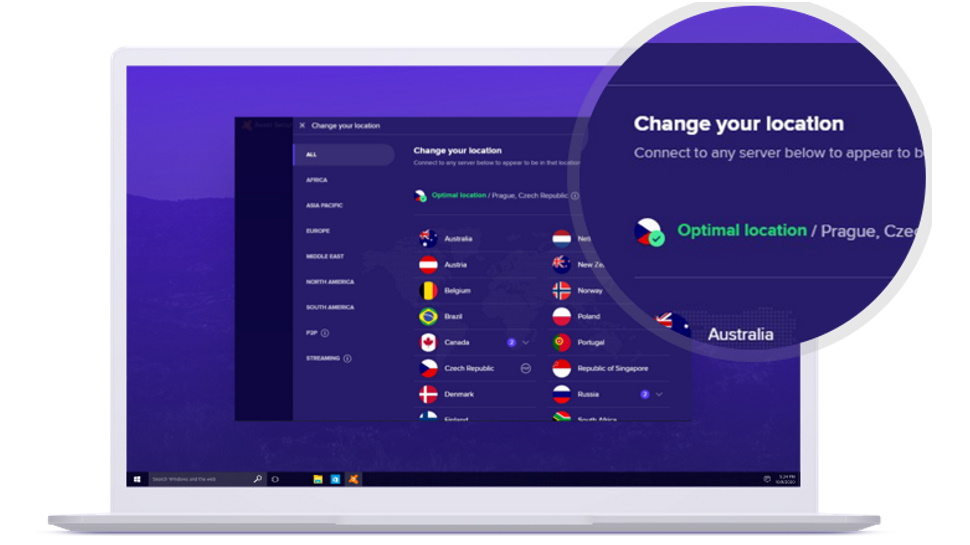 Plans and pricing
Avast SecureLine is priced from $4.59 a month on the annual plan (there's no monthly billing unfortunately). You can pay via card or PayPal.
There are two and three-year plans, but with both priced at a very similar $4.39 a month, we're struggling to see any reason to choose them.
This still looks like fair value, but if you're on a budget, there's big money to be saved elsewhere. Private Internet Access asks only $3.33 a month on its annual plan, for instance, and if you sign up for three years, you'll pay only $2.03 a month for the first term, one of the best value deals around.
Avast SecureLine scores for its generous trial, although it's presented in a slightly confusing way. The website states there is a '7 day free trial, no credit card required', which sounds good, so we clicked the link. The app did ask for credit card (or PayPal) details after all, but it also gave us a whole 60 days to try the service before we'd be charged. In a world where most VPNs gave up their free trials years ago (if they had them at all), that's a very good deal.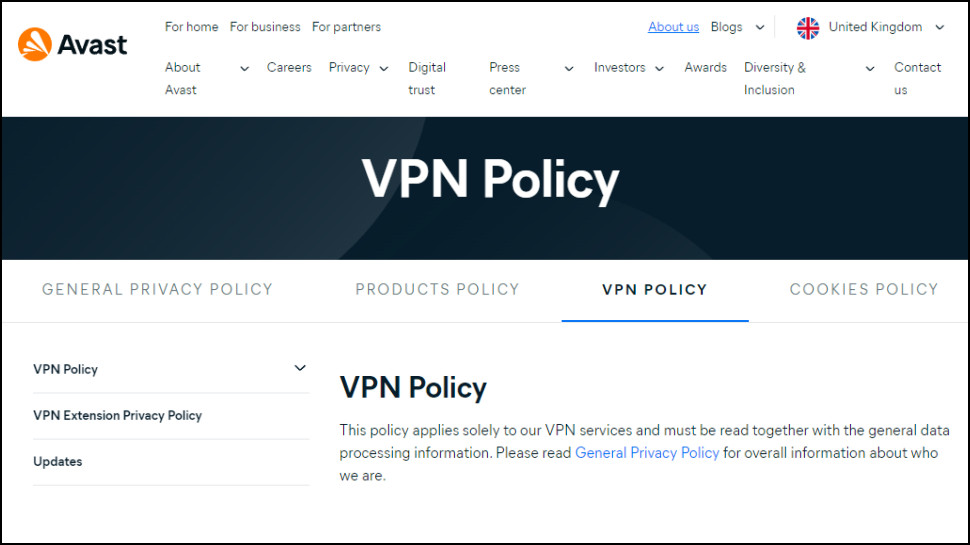 Privacy and logging
Avast's use of the highly secure OpenVPN and WireGuard protocols get it off to a good start in the privacy stakes. A kill switch protects you if the VPN drops, there's DNS leak protection, and a bonus in WebRTC leak protection with the browser extension.
Avast also deserves credit for its VPN privacy policy. Not only does this have plenty of detail on what the service logs, and what it doesn't, but the policy also explains this far more clearly than most.
The good news is SecureLine doesn't log your originating IP address, DNS queries or anything else which could identify the websites you visit, the services and applications you use, or whatever else you might be doing online.
The not-so-great news is there's a degree of session logging, including connection timestamps, and the amount of data transmitted. But that's not enough to link you to any web action, and Avast deletes this after 35 days. (For instance, data logged on January 3 is deleted on February 7.)
Avast's various apps use standard analytics libraries (Google Firebase, Google Fabric, AppsFlyer) to collect some basic data of their own: OS version of the device, the actions you're taking in the app (if you enable a feature, disable another, maybe uninstall and reinstall the client). That's also commonplace, though, and if you're uncomfortable, anyway, you're able to turn off this kind of data collection in the app Settings panel.
Overall, Avast isn't saying anything very surprising or unusual here. Still, potential customers shouldn't have to take any VPN provider's words on trust. The likes of TunnelBear, ExpressVPN and NordVPN have put themselves through independent audits to verify their privacy promises, and we'd like to see Avast do the same.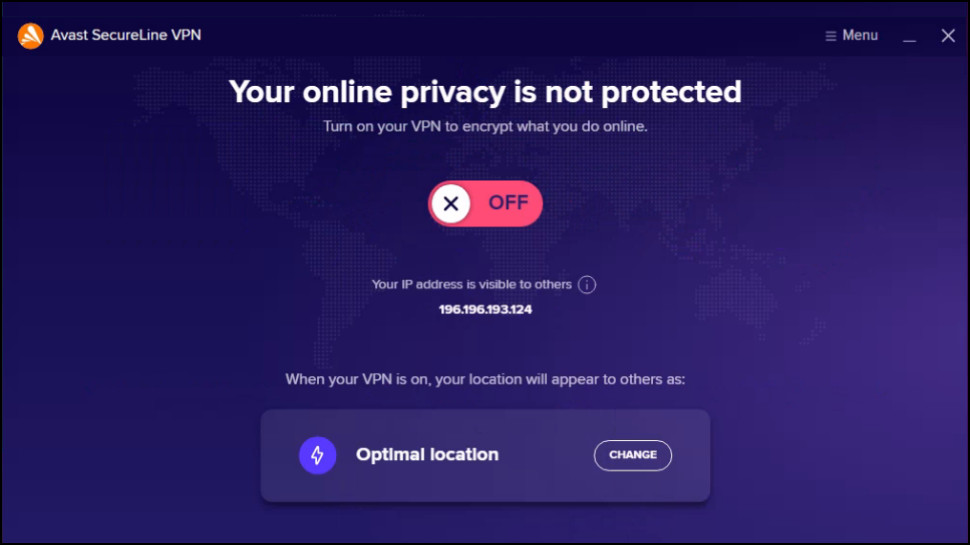 Windows app
Avast SecureLine VPN's Windows app takes up a little more screen real-estate than most of the competition, but it's well-designed, and does a great job of talking even total VPN novices through the start-up process.
If you're a newbie, for instance, you might think just running SecureLine VPN is enough, but the app is quick to point out the real situation. 'Your online privacy is not protected', it told us, sternly: 'Turn on your VPN to encrypt what you do online.'
How do you do that? Just in case the large button currently marked 'Off' wasn't enough of a clue, the app displayed a large arrow pointing to it, with the caption 'Start here.'
Tap the button, and the app quickly connects to your nearest SecureLine server. While other apps then typically just display a 'Connected' message, Avast is far more clear and helpful: 'Your connection is encrypted and your location is disguised.'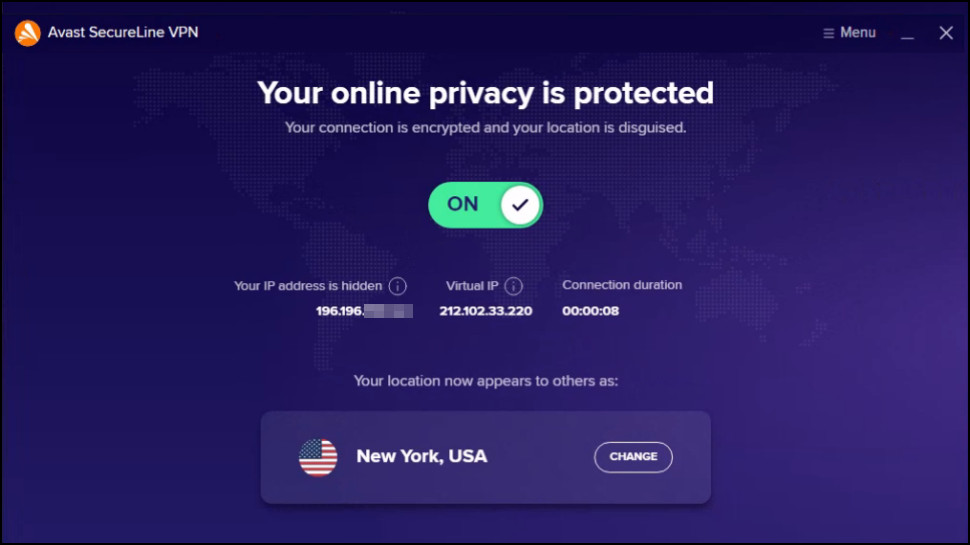 It's the same with the IP addresses. The app doesn't just display your original and VPN IP addresses – hovering your mouse over a Help icon displays a pop-up with a brief but clear explanation of what these figures mean. Even VPN newcomers won't need to look at this more than a couple of times, but it's still a great idea, and a real usability plus.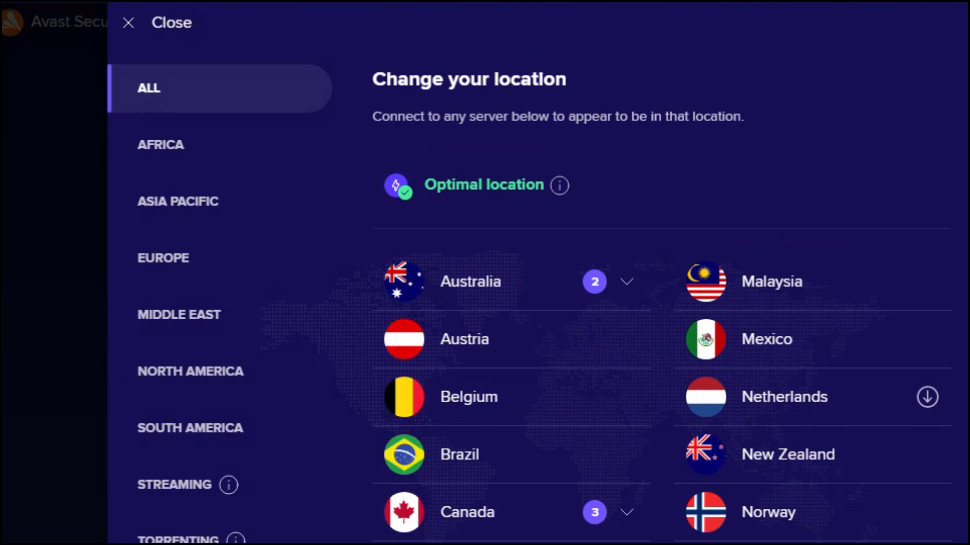 The location list is a little more basic. It allows filtering by continent, and to view P2P or streaming-optimized servers, but there's no Favorites system or Recent list to speed up reconnecting to commonly used servers.
The Settings panel allows you to choose a protocol. WireGuard is now available in beta form, OpenVPN is here, and Avast's own Mimic protocol is designed to get you connected in VPN-unfriendly environments where other services are blocked.
A panel at the bottom of the app window appeared during the review, displaying alarming information: 'We've detected potential attempts to track you', it warned.
We clicked the Resolve button expecting some help, but instead got a couple of screens trying to persuade us to buy Avast's AntiTrack product, and a third giving us a choice of one, two or three-year subscriptions. We expect clickbait ads trying to scare users in free products, but not when we've paid for a supposedly professional service.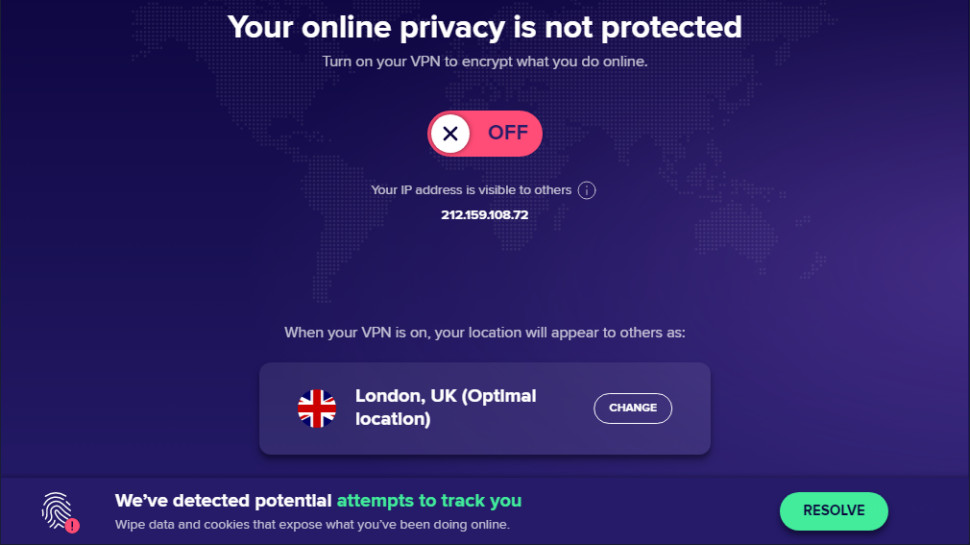 The app's core features worked well during testing. Connection times were quick at around a second for WireGuard, 5-6 seconds for OpenVPN, even with the most distant locations; some VPNs take 4 to 5 times as long. There were no failed connections or connection drops, either – SecureLine proved very stable.
(Why? Peeking under the hood, SecureLine uses an optimized Wintun driver rather than the clunky TAP adapters required by many VPNs. Keeping it simple should make for better performance and less chance of connection issues or conflicts with other software.)
We used various tricks to forcibly close the VPN anyway, to find out how the kill switch performed. In every case it correctly blocked our internet, ensuring our data was never exposed, then quickly reconnected.
We noticed one odd WireGuard issue. If the WireGuard process crashed, the app activated the kill switch and appeared to reconnect, but our internet was still dead. We had to close the VPN and reconnect to restore normal operations.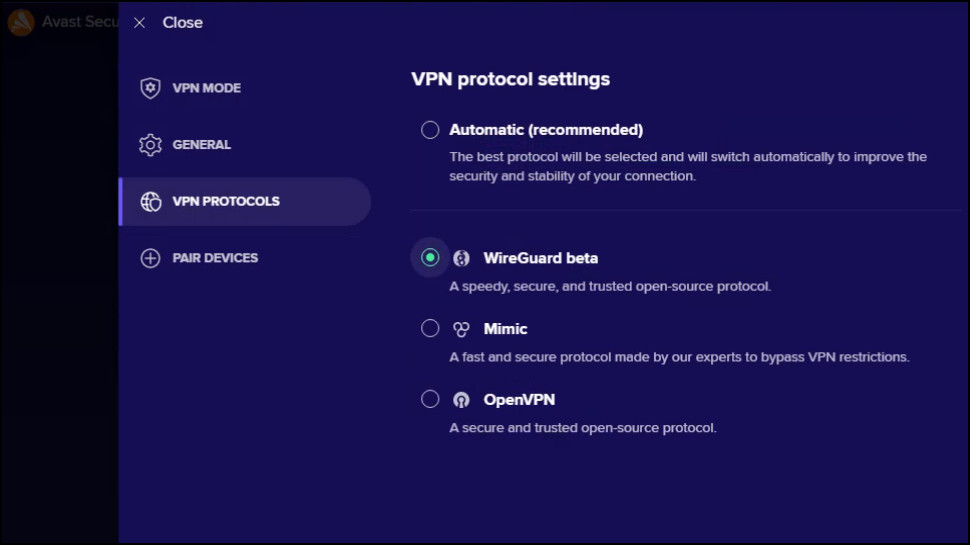 That's annoying, but not a disaster. The app still blocked our internet as it should, and our traffic wasn't exposed until we manually closed the VPN, giving us time to close our P2P app or stop whatever else we were doing. That's not a bad result, especially when WireGuard is in beta, and hopefully the issue will be fixed in the final release.
Perhaps the most ambitious feature of the app is its Smart VPN Mode, where you're able to set the VPN to automatically connect according to your preferred rules. You could have SecureLine kick in whenever you connect to public Wi-Fi networks, stream videos, use torrent apps, or visit banking sites, for instance.
We tried opening 10 top US and banking sites, five streaming and five torrent apps, and the service worked each time. When we launched our Netflix app, for instance, SecureLine connected to a streaming-optimized location, automatically shutting itself down when the app closed; easy.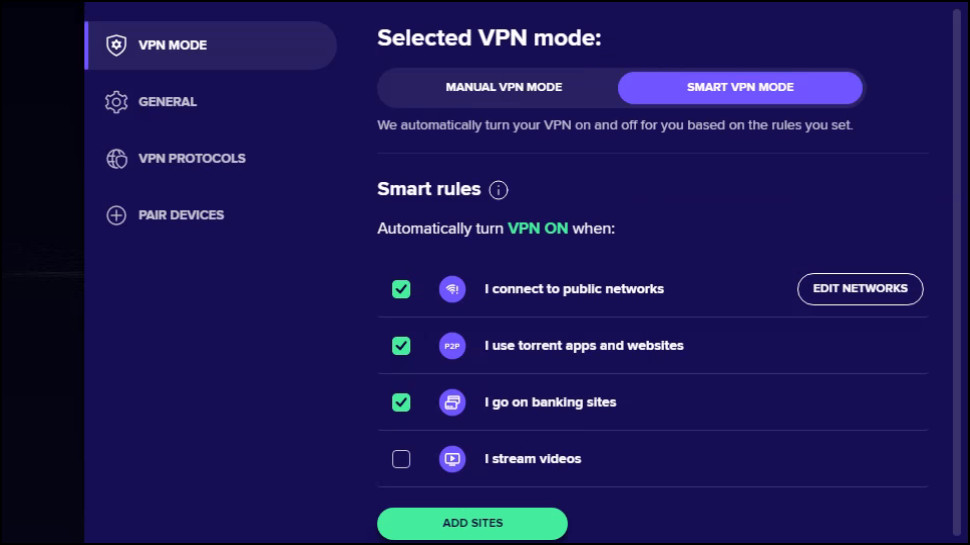 But we also noticed a worrying problem: Smart VPN Mode didn't always recognize whether we were protected. If we visited a banking site when our 10 device slots were used, for instance, SecureLine first displayed an 'activating' notification. The connection failed because we didn't have a free device, but although this was displayed in the app window, it didn't show a warning notification. Users could easily be left thinking they were safe, when in fact SecureLine VPN wasn't offering any protection at all.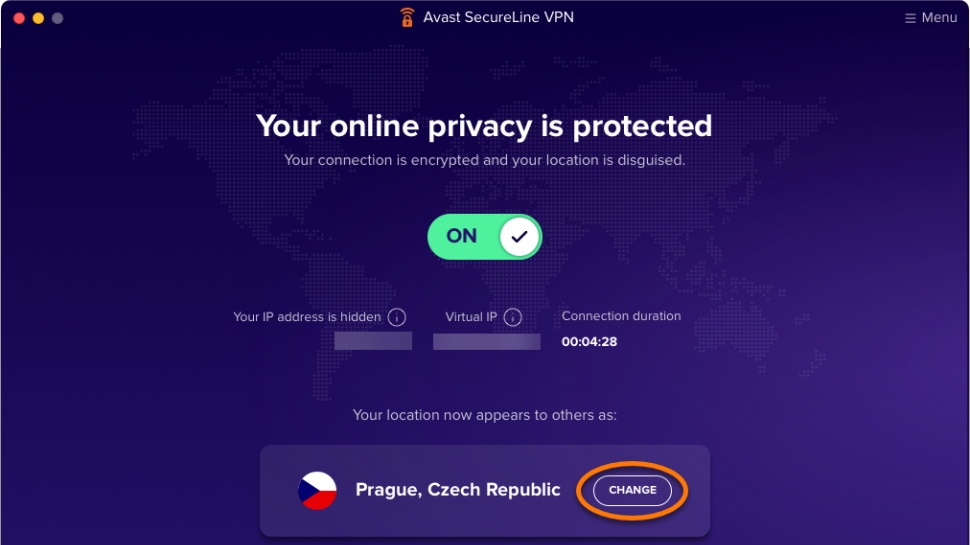 Mac and mobile apps
Avast SecureLine VPN's Mac app looks and feels almost identical to its Windows cousin, and that's just fine with us. The interface is smartly designed and easy to use, and once you've learned how the app works on one platform, you'll know exactly how to use it on the other.
There's one small exception under the hood. The Mac app supports IPSec and Avast's Mimic protocol, but it doesn't have WireGuard. That'll hold back Mac speeds a little (more on that later), but as Avast is beginning to roll out WireGuard support, we hope it'll be arriving on Mac soon.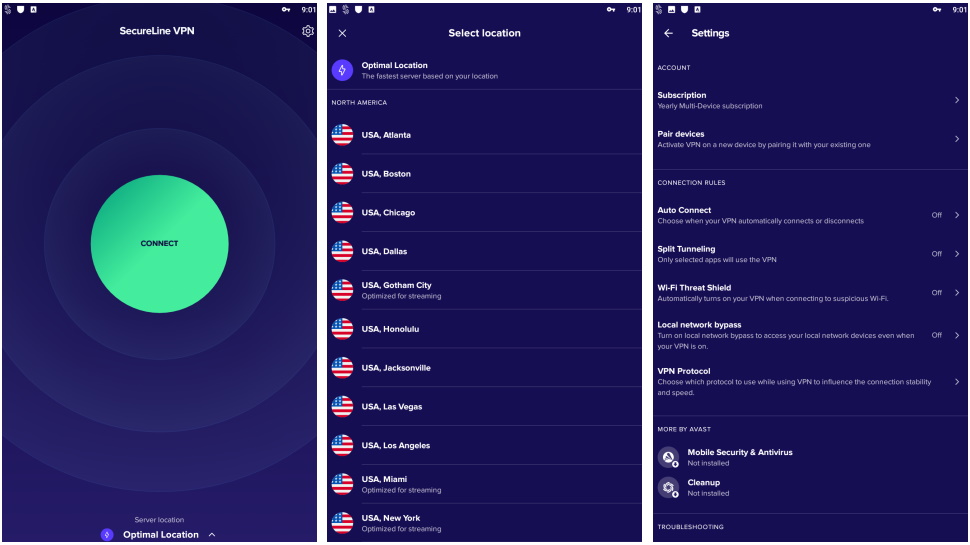 SecureLine's Android app has a more basic interface than the desktop editions. There are no novice-friendly captions and tooltips explaining how everything works, for instance. The location picker is just a lengthy list of countries and cities, with no option to filter by continent, and no way to choose streaming or P2P-optimized servers at all. It can't automatically connect when you stream videos, or access banking or P2P sites, either.
This is still a decent Android VPN app. There's WireGuard support, integration with Android's system-wide kill switch, and a new feature in split tunneling (the ability to decide which apps use the VPN tunnel, and which don't). But it doesn't compete with the best of the Android competition, and it's no match for SecureLine's desktop apps.
SecureLine's iOS offering is simpler still, with no WireGuard (just Mimic and IPSec only) and even fewer features. It connects quickly and connections are stable, but otherwise this looks a little underpowered.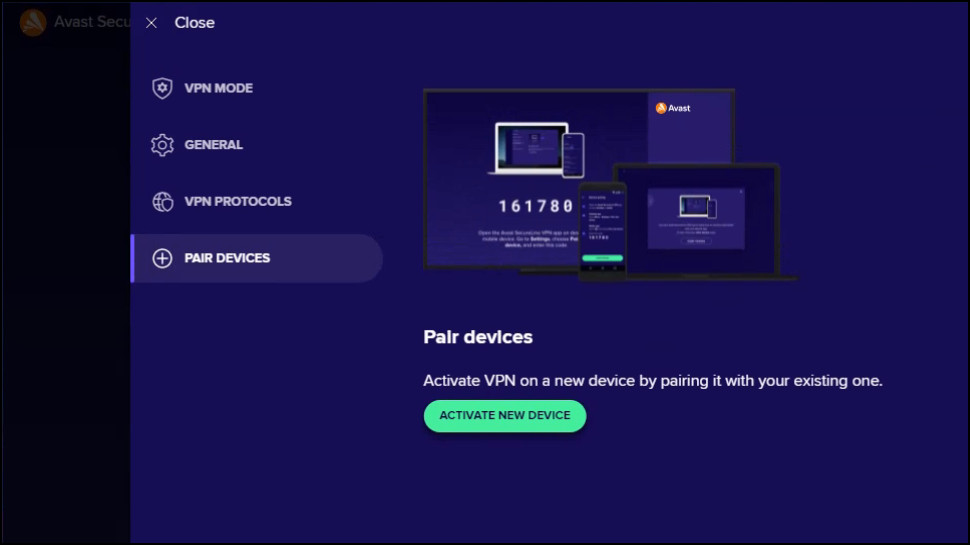 There is one interesting feature which is available right across the app range. It's called 'Pair Devices' and it allows you to connect a new app installation to your account without having to know the username and password. 
This is very easy to use – the Pair Devices option generates a keycode on the new device, you enter it into the new one, and it's ready to connect. It saves you time and hassle, and allows someone else to set up their own device without you giving them your account and password – very convenient.
Support
Avast is a security giant with more than 400 million active users, and that means – unlike many far smaller VPN providers – it's learned a lot about how to offer support. 
A simple support page points users to everything they're likely to need in its top three links, for instance, with a good range of product FAQs, setup and usage guides for Windows, Mac, iOS and Android.
Live chat is on hand if you need more help. We had a quick, friendly and informative response to our test question. As is often the case with antivirus companies, we didn't get the impression that the agent had the expertise we sometimes see with specialist VPN providers. But that's no surprise when Avast support must cover so many other products and areas, and overall, it's likely the website and support team should be enough to help you with most common VPN issues and situations.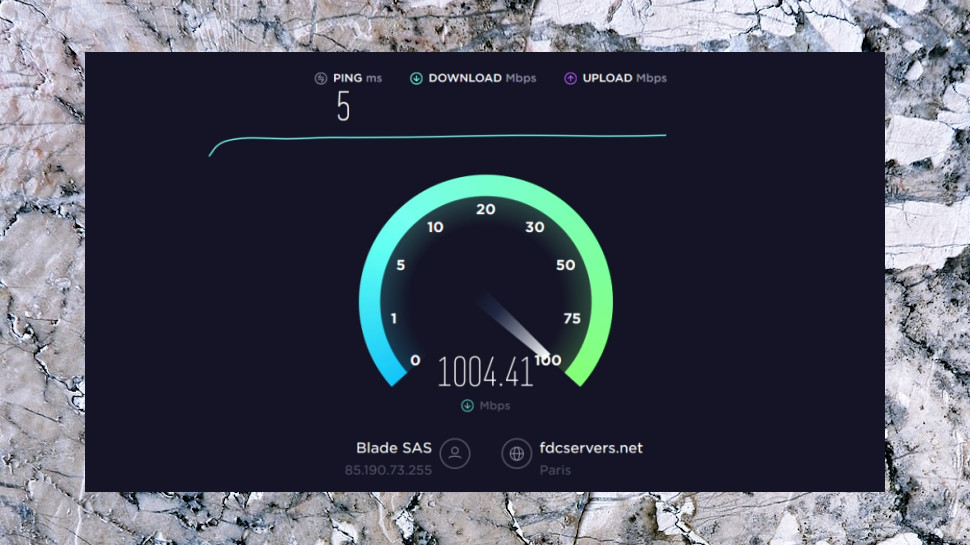 Performance
Avast SecureLine's Windows client offers only five servers it says are 'optimized for streaming': one in the UK, one in Germany, and three in the US (New York, Miami, and, apparently, Gotham City – which is maybe the very definition of a virtual server). Would that be enough to allow us access to geoblocked content?
The answer turned out to be: not entirely. It failed with Netflix in the US, UK, Australia, Canada and Japan. But SecureLine did get us access to Disney Plus and Amazon Prime Video in the US. And it scored in the UK, unblocking BBC iPlayer, ITV and Channel 4 – and also succeeded with Australia's 9Now. 
Switching to our performance tests, Avast's OpenVPN managed a mid-range 240-250Mbps, acceptable for most devices and tasks. But WireGuard speeds were exceptional at 820-840Mbps, earning Avast an impressive fifth place in our most recent speed charts (Surfshark, TorGuard and Norton were equal first with 950Mbps+, with Hide.me in fourth).
Most people don't have the 1Gbps connections used with our main test sites, so how would Avast cope elsewhere? We switched to another UK location, connecting via a Three 5G broadband router normally capable of 250Mbps, and the answer was 'very well': Avast SecureLine still reached a respectable 210Mbps.
Finally, we checked the Windows, Mac, Android and iOS apps for DNS leaks. The entire Avast SecureLine VPN range turned out to be entirely leak-free, properly protecting our identity at all times.
Final verdict
It's user-friendly and offers excellent performance, so Avast SecureLine could be a smart choice for fans of the company. But poor Netflix unblocking and assorted app and privacy issues mean it's not ready to compete with the top specialist VPNs just yet.