Private Internet Access (PIA) VPN
Private Internet Access is a powerful VPN that ticks pretty much all the boxes.
Private Internet Access (commonly known as PIA) is a capable VPN provider, now owned by Kape, which also owns CyberGhost, ZenMate and ExpressVPN.
The company's network has speedy 10Gbps servers spread across 84 countries, including many that are often forgotten by other providers: Bahamas, Bangladesh, Costa Rica, Qatar, Sri Lanka, UAE and more.
There's support for using the service just about anywhere, with apps for Windows, Mac, Android, iOS and Linux, browser extensions for Chrome, Firefox and Opera, detailed setup tutorials for routers and other platforms, and smart DNS to unblock sites on games consoles and other devices which can't run apps.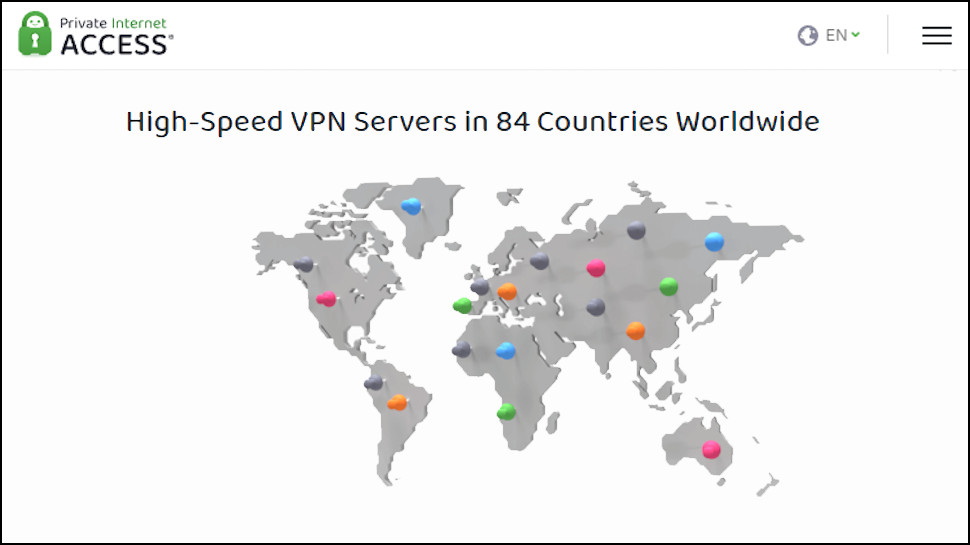 PIA supports connecting up to 10 devices simultaneously. That's twice the allowance you'll get with many VPNs, although Windscribe and Surfshark have no limits at all.
Extras range from the straightforward (built-in blocking of ads, trackers and known malicious websites) to the more low-level and technical: a SOCKS5 proxy for extra speed, port forwarding support, the ability to select your preferred encryption, authentication and handshaking methods, and more.
And if that sounds too complicated for you, no problem – there's 24/7 live chat support to talk you through any tricky bits.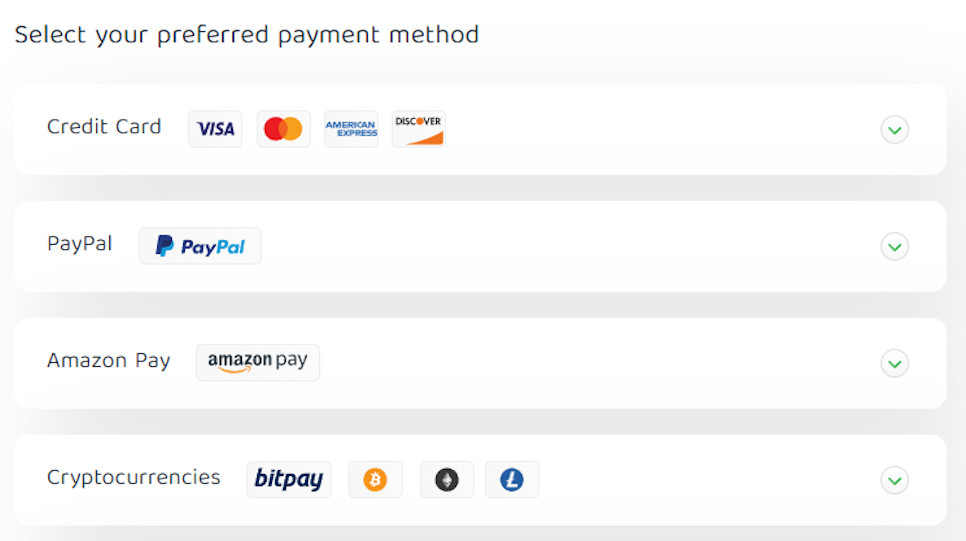 Private Internet Access pricing
The Private Internet Access monthly plan is fair value at $11.95. The annual plan is cheaper than most at a low $3.33 a month, but opt for the three-year plan and this drops to just $2.03 ($2.19 on renewal). Putting that into perspective, Hotspot Shield's Premium plan costs $95.99 for one year's protection; PIA asks only $79 for your first three.
PIA offers dedicated IPs in Australia, Canada, Germany, Singapore, UK and US, and recently added Japan and Switzerland. These get you the same IP address every time you log on, and as no one shares it, you're less likely to find you're block-listed due to someone else's dodgy activities. But using the same IP also means you're more likely to be recognized by websites, so this isn't an ideal option for everyone.
Pricing for a dedicated IP is reasonable at $5 a month, $4.25 on the one-year plan, $3.75 over three years. NordVPN is a little more expensive at $5.83 a month on its annual plan, but Ivacy undercuts everyone at just $1.99 a month.
You can pay for PIA via Bitcoin if you're looking for extra privacy, or by card or PayPal, plus there are other methods depending on your region (Amazon Pay is supported in the US, for instance).
There's a free 7-day trial for mobile users, and you're also covered by a 30-day money-back guarantee.
PIA's Terms and Services has another surprise (and unusually for small print, it's a good one). Many VPNs say customers are only allowed one refund, ever. Private Internet Access says that if you purchase a new account more than three months after the last refund, you're eligible for another. Works for us.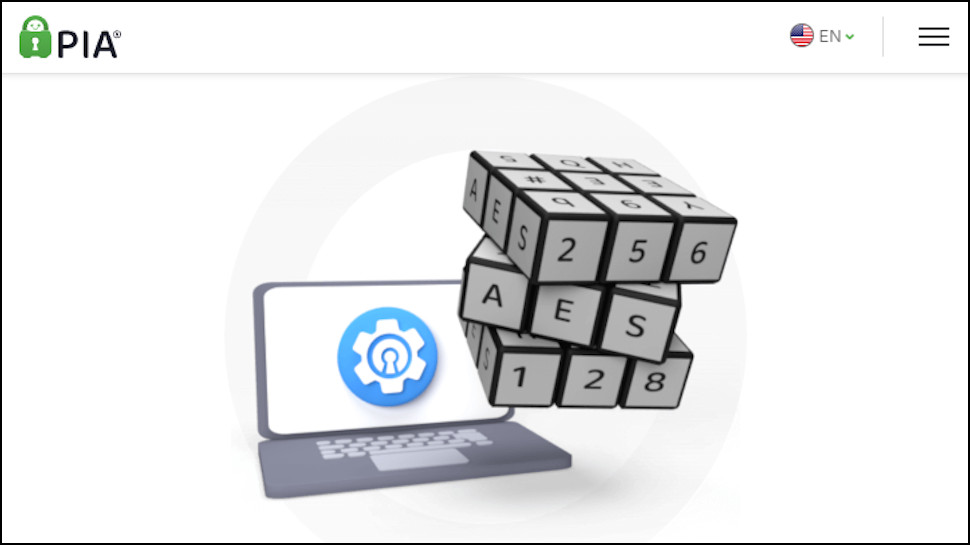 Privacy and logging
Good VPN privacy starts with a strong set of core features, and Private Internet Access delivers more here than most.
PIA's apps only use the latest and most secure protocols, for instance, in WireGuard and OpenVPN. There's DNS leak protection, and a kill switch to disable your internet access if the connection drops. PIA's MACE feature blocks ads, trackers, malware and more, and its Chrome extension adds a bunch of bonus privacy features (block location access, third-party cookies, website referrers and more).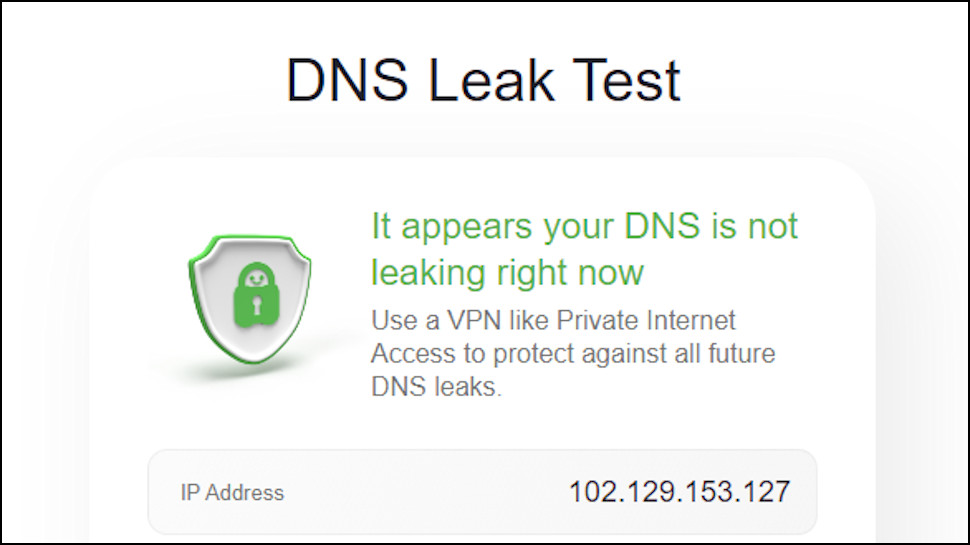 The best providers show they respect your privacy, and PIA scores here, too. Many VPNs have an option to send anonymous connection data back to the company, to help improve the service. Some turn this on by default, with the VPN presumably hoping users never realize what's happening. But with PIA, nothing gets sent unless you go into the Settings panel and turn on the feature yourself (it's the 'Help improve PIA' option in the Help area, if you're curious).
It's important for a VPN to show transparency, to offer real evidence that it's living up to its promises. Again, Private Internet Access has way more to boast about than many rivals.
The company's apps are open source, allowing others to examine the source code, look for bugs, and see whether it's doing anything which might compromise the user's privacy.
PIA's Android app is certified by the ioXt Alliance, verifying that it complies with standards in areas like cryptography, software verification and updates.
The company has a very clear logging policy, and states that the service does not 'store or share… incoming and outgoing traffic information, including user and destination IP addresses, browsing history/ websites visited, amount of data transferred, the VPN servers used, DNS queries or files downloaded… [as well as] VPN session information, software used, connection date, and duration.'
You shouldn't have to take the word of any VPN on trust, of course, but the big news since our last review is that's no longer necessary.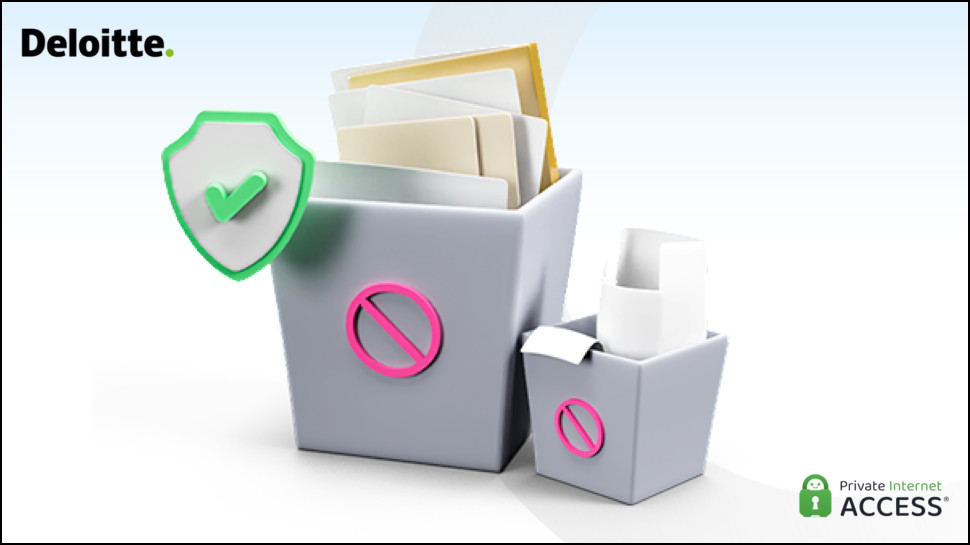 PIA has had its no-logs policy independently audited. The company invited Deloitte to interview staff, inspect its VPN and other servers, evaluate its policies, procedures and more. Deloitte's report found no evidence of privacy issues, and concluded that the policy was a fair description of how PIA sets up and manages its systems to prevent any logging.
That's great news, and gives potential customers genuine reassurance that PIA really is looking after their privacy. There's more to do – TunnelBear has its apps, servers, website, backend systems and more audited every year – but this is an excellent start, and we'll be interested to see what PIA does next.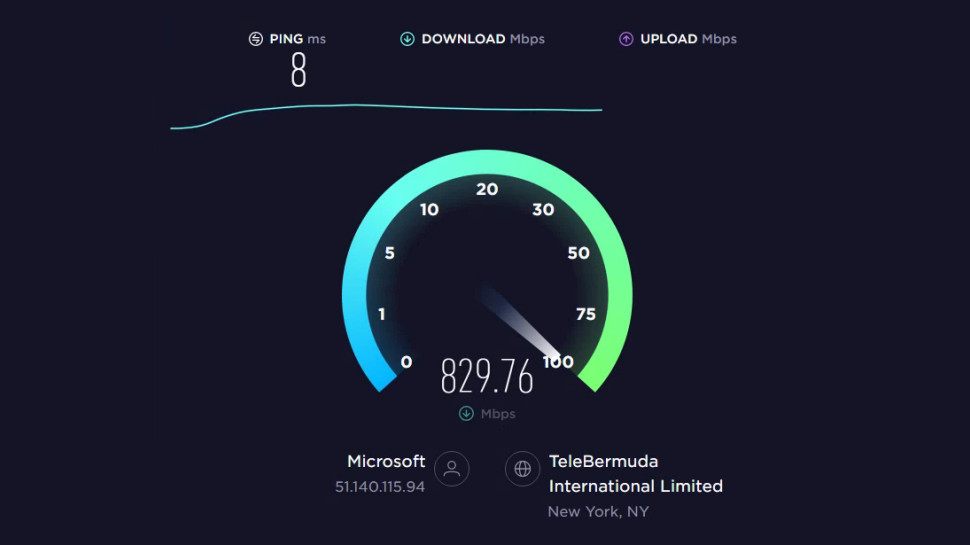 Performance
Every VPN promises a high-speed, ultra-reliable network, but the reality can be very different. That's why we look past the enthusiastic marketing, and put every VPN we review through our own intensive tests.
This starts by installing PIA's latest Windows app on systems in a UK data center and a US location, each with a 1Gbps connection. We connected to our nearest location, then measured download performance using several speed testing sites and services (SpeedTest's website and command line app, nPerf, SpeedOf.me and more). We ran the tests using WireGuard and OpenVPN connections, then did it all again in an evening session.
We've seen some disappointing results from PIA in the past, but not this time: WireGuard performance reached a solid 450-510Mbps, double what we saw in our last review. That's still far behind the fastest VPNs (TorGuard and Surfshark hit 950Mbps+ in their last tests), but would most users really be upset if they 'only' got 500Mbps from their VPN? We suspect not.
WireGuard is enough for most users, but if you're setting up PIA on a router or other device then you may have to use OpenVPN. We tested OpenVPN speeds, too, and they reached a better-than-average 180-260Mbps
Most people don't have data center levels of connectivity or 1Gbps internet connections, so we also tested PIA's performance from a UK home using a Three 5G broadband router. With PIA turned off, the router reached 240Mbps; with PIA turned on, it reached a relatively disappointing 83Mbps. That's fine for browsing or streaming, but it's also less than half of what we see from most top providers.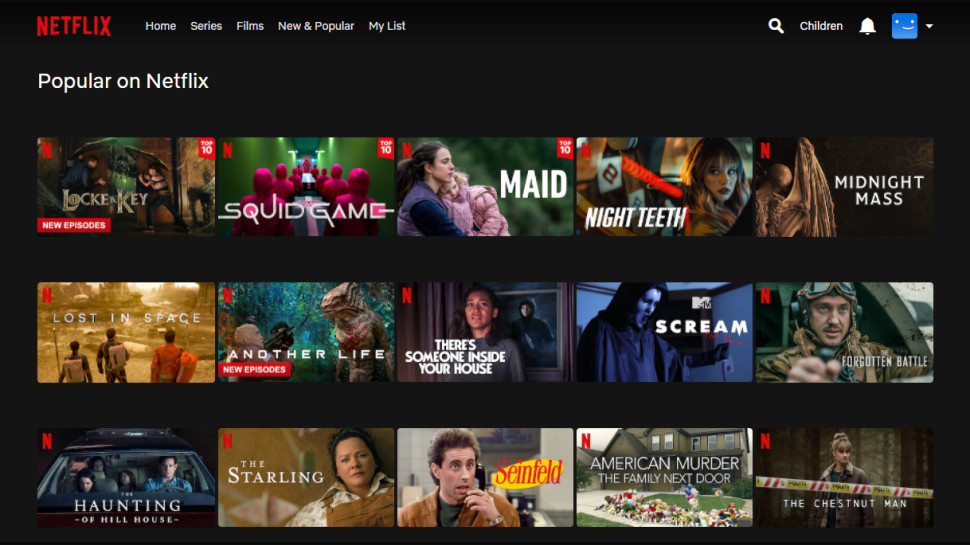 Netflix and streaming
Connecting to a VPN to use with Netflix or other streaming services can get you access to all kinds of geoblocked websites, hopefully avoiding those annoying 'not available in your region' error messages.
To test the unblocking abilities of Private Internet Access, we attempted to access US and other Netflix libraries, Amazon Prime, BBC iPlayer, Disney Plus, UK's ITV and Channel 4, and Australia's 9Now and 10 play, from several test locations.
Accessing Netflix is a big test of website unblocking chops. PIA got us into US Netflix with one of our two test servers, and beat Netflix Canada's defenses with one of our three locations. Not perfect, but one working location is enough, and PIA won extra credit by getting us into Netflix UK, Australia and Japan without any failures.
We saw a similar 'that'll do' performance elsewhere in the US, with PIA unblocking Amazon Prime Video with one out of two test locations, but working with Disney Plus on both our tries.
Our Australian tests saw PIA finally defeated, failing to access 10 play from all three locations (although it did unblock 9Now each time).
Performance picked up in the UK, though, as PIA got us into BBC iPlayer, ITV and Channel 4.
That's a very good result, but if you need the best possible unblocking, there are better options. ExpressVPN, Hide.me, NordVPN, PureVPN and Surfshark all unblocked every site in our most recent tests.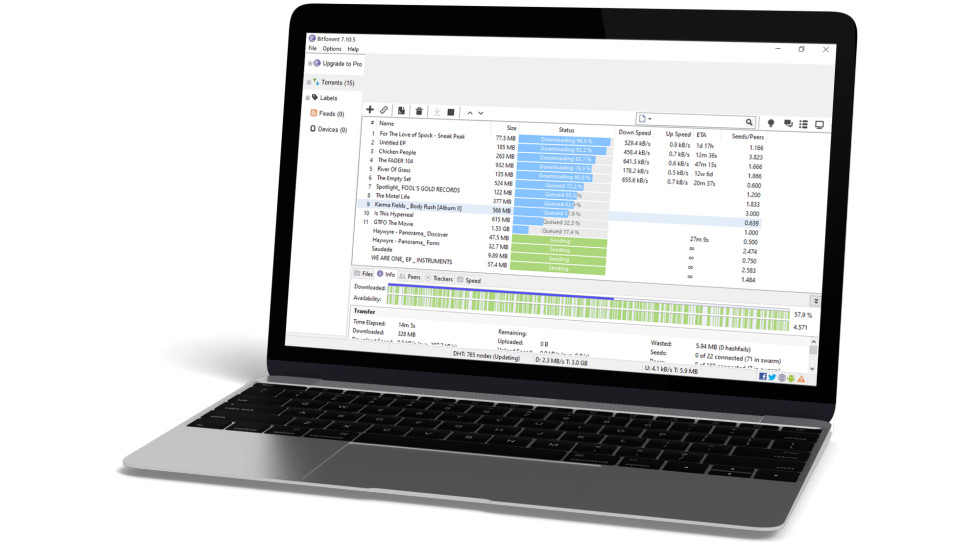 Torrents
Private Internet Access supports P2P, and we don't just mean on a couple of specialist servers hidden away somewhere. You can use torrents from any location, with no bandwidth or other limits to restrict your activities.
We verified this by connecting to three sample locations and successfully downloading torrents, with no connection or other issues.
There's an unusual bonus in support for port forwarding from PIA. This enables redirecting incoming connections to bypass a NAT firewall, and in some cases, may help improve P2P download speeds.
PIA's website doesn't offer much help with any of this. The knowledgebase does have a Torrent section, but it only has a single article on 'How do I enable port forwarding?', and that doesn't even mention P2P.
Still, the company scores well on the fundamentals – large network, decent speeds, no logs, Bitcoin support – and on balance it makes a fair torrenting choice.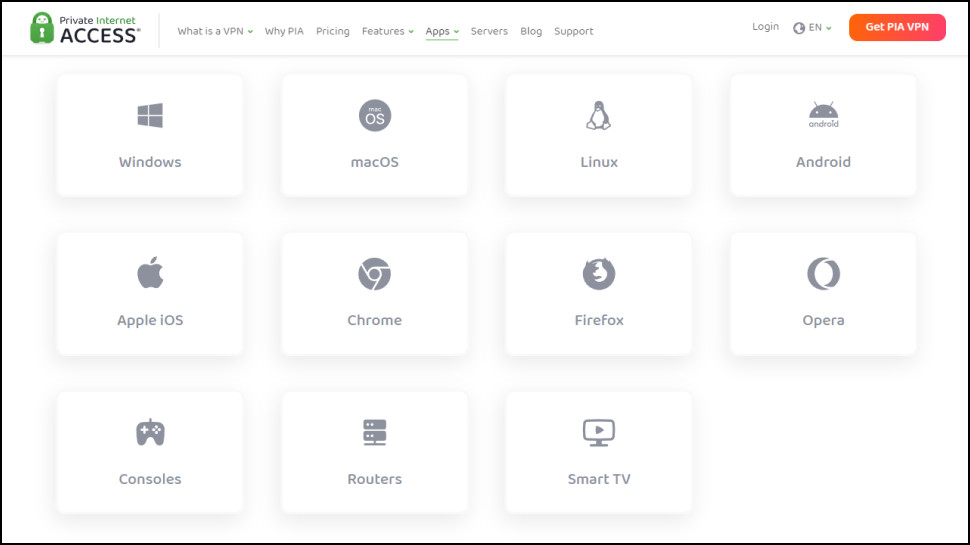 Client setup
Sign up for Private Internet Access and the company does its best to streamline the setup procedure. The website immediately redirected us to the Download page, where there were direct downloads for Windows, macOS, Linux, and links to the Android and iOS apps plus assorted browser extensions (Chrome, Firefox, Opera).
It's even possible to download the raw Android APK file, handy for experts who need to manually install it somewhere.
There are some unusually thoughtful touches. Wondering why you should update, for instance? The site lists the changes for every new build. A recent update has broken the app? You can download previous versions, too. If only all providers were this helpful.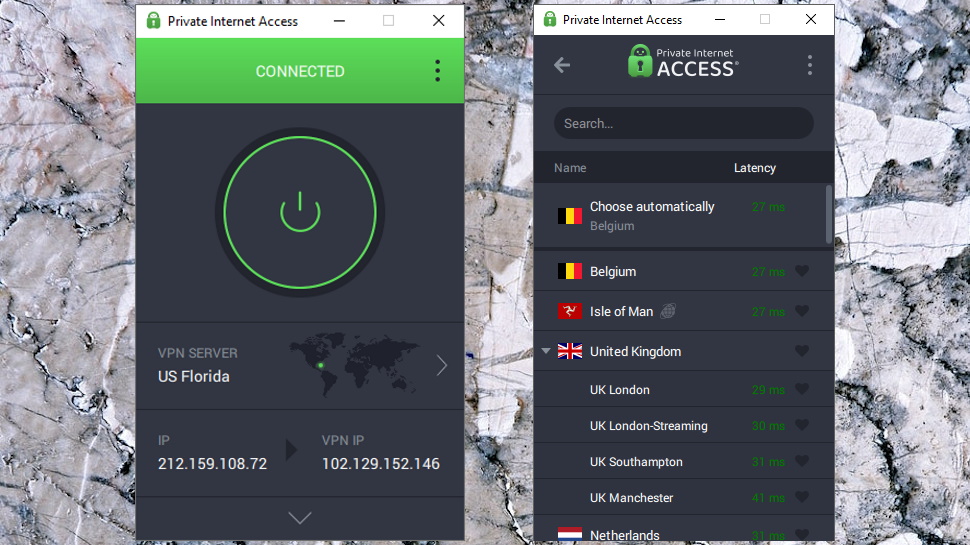 Windows app
The Private Internet Access app installs easily, and opens with a simple and very straightforward client window. Tap the big Connect button to hook up to your nearest server, tap it again to disconnect, and status areas tell you when you're connected, and display your original and new IP addresses.
The client's excellent and feature-packed location picker is just a click away. It lists countries and city-based locations, where available, and ping times indicate which is closest. You can sort the list by location name or ping time, and a search box plus Favorites system help you quickly find and access whatever server you need.
Looking for more functionality in the app? Clicking an arrow at the bottom of the UI displays a host of other panels you can add to its default display. A 'Quick Connect' section listed recently used servers; a Performance graph charts speeds; Usage figures listed how much data we'd uploaded and downloaded; a Subscription pane is supposed to display account information, although it was blank for us; a Connection panel displays details on your current connection (protocol, encryption algorithm and more); and finally a Snooze option enables turning off the VPN for a set number of minutes.
We thought the Quick Connect ('Recently Used') and Quick Settings panels looked most useful, and added them to the standard app display in a couple of clicks. We could even rearrange the panel positions by dragging and dropping; easy.
Maybe you're looking for simplicity more than extra features? That's possible, too. If you only ever need to connect to the nearest location, you can remove the location list and have an app which displays a Connect button only.
If you're happy with the standard interface, this may not matter very much. But if you like to tune a VPN app to suit your needs, PIA gives you far more tweaks, options and customization possibilities than we've seen from anyone else.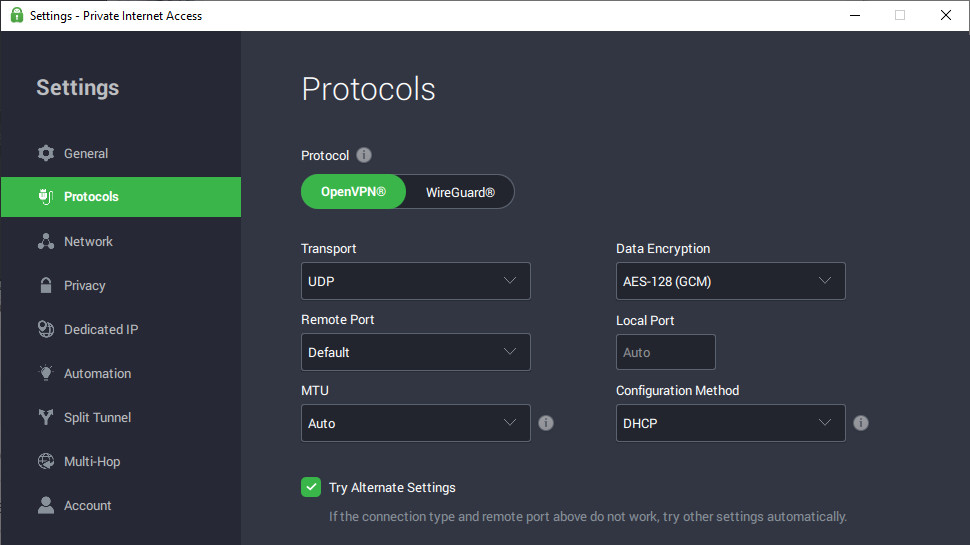 Windows settings
PIA's Windows app Settings dialog gives you a lot of expert-level control over how the VPN works. Choose OpenVPN rather than WireGuard, for instance, and you're able to select UDP or TCP connection types and encryption (AES-128/256-GCM), as well as choosing a custom remote port (53, 1194, 8080, 9021), and defining how your MTU is set (potentially important for connection speed and reliability).
Some locations support port forwarding, which makes it easier to set up and accept incoming connections to your system.
Elsewhere, a kill switch disables internet access if the VPN disconnects, reducing the chance that your real IP will be leaked. You get the option to use Private Internet Access' DNS servers, your own, or any other custom servers you prefer. And the DNS-based MACE system to block domains used for ads, trackers and malware can be enabled or disabled with a click.
VPN kill switches don't always deliver (some are almost entirely useless), so we were keen to run some in-depth tests. But whether we gently closed a couple of TCP connections or just terminated PIA's entire OpenVPN-based connection manager, the client didn't care. Each time it displayed a desktop notification to warn us of the problem, then quickly reconnected, without ever exposing our real IP.
It was the same story with WireGuard connections. No matter how brutally we dropped our connection, from closing PIA's WireGuard Windows service to turning our router off and on again, the client successfully blocked our internet access, warned us with a notification and reconnected at speed.
Our final tests put the threat blocking MACE through its paces, again with positive results. We turned it on, then tried accessing 150 common trackers. MACE blocked 111, a decent score for a bonus feature you're essentially getting for free.
PIA's Windows VPN client for PC might look a little basic initially, then, but spend a few minutes playing around and you'll find it easy to use, with some interesting, advanced features.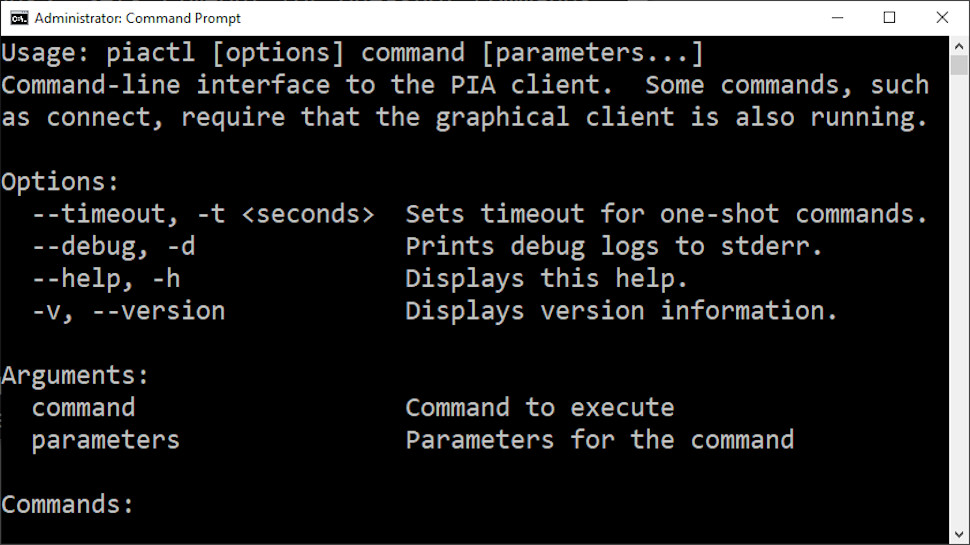 Command line use
PIA's desktop clients now include piactl, a simple command line tool which enables using the VPN from a script.
If that sounds like hard work then you might be right, but there could be advantages. What about setting up a scheduled task to automatically connect at a certain time of day, for instance? Or automatically connecting when your system boots, but only after it's performed some local network tasks first? Creating special shortcuts which connect to different locations, then open whatever app or website you need?
Getting this working could be easier than you think. The command 'piactl connect' connects you to the current default connection, for instance, while 'piactl disconnect' closes the connection. You don't need to be a developer to recognize what 'piactl set region us-atlanta' does, and there are commands to get and set more options, and monitor the service state.
Mac app
PIA's Mac app has the same stylish and appealing interface as the Windows edition. It's so easy to operate that even total VPN newbies will quickly figure out the basics: tap the Connect button to use your nearest server, choose another from the Location list if you like, and you're ready to go.
'Simple' doesn't mean 'basic', though. We immediately noticed several usability plus points, including a sortable location list, ping times to help you spot the nearest servers, and the Favorites list for storing your most commonly-used choices.
That's just the start. The app interface can be customized just like the Windows build, with panels displaying 'recently connected' lists, speed charts, upload and download data transfer figures, a Snooze option to pause the VPN connection, and more.
The real surprise here is the Settings panel, which is absolutely crammed with useful features.
These start with the app basics. You might choose a light or dark theme, or select a protocol (WireGuard or OpenVPN), or specify to launch and connect to the VPN whenever your system starts.
But there's so much more, including just about all the advanced features available on Windows. Custom DNS settings; split tunneling; proxy support; Multi-Hop VPN; a sophisticated rules-based system to automatically connect (or disconnect) when you access particular networks; and more.
Some of these options assume a lot of technical knowledge, and there's not a lot of guidance to be found in the app. We would rather have these features available than not, though, and on balance, PIA's Mac app works well. It's easy enough for beginners to use right away, yet also has the power that even the most demanding experts need.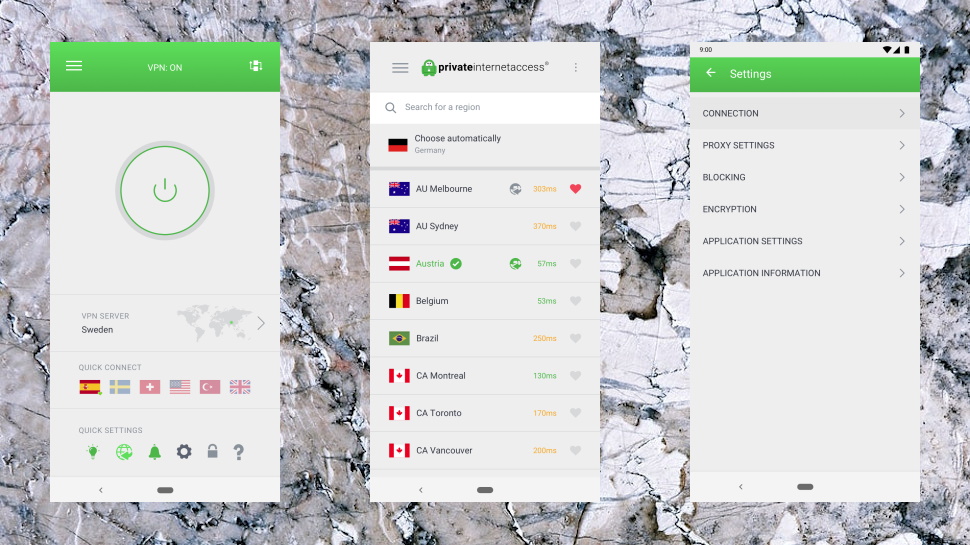 Android app
PIA's Android VPN app opens with a very conventional interface – featuring white space, a large On/Off button, plus your chosen region and IP address – but swipe up and you'll find a mass of other buttons, icons and status details.
There are quick settings links to toggle the kill switch on and off or launch PIA's Private Browser, for instance (which is not installed by default). Or you can flag icons to quickly access a number of countries, plus there are snooze options to disconnect the VPN and automatically reconnect in 5 or 15 minutes, or an hour. And connection status details cover everything from your preferred protocol and encryption method to the amount of data you've uploaded and downloaded.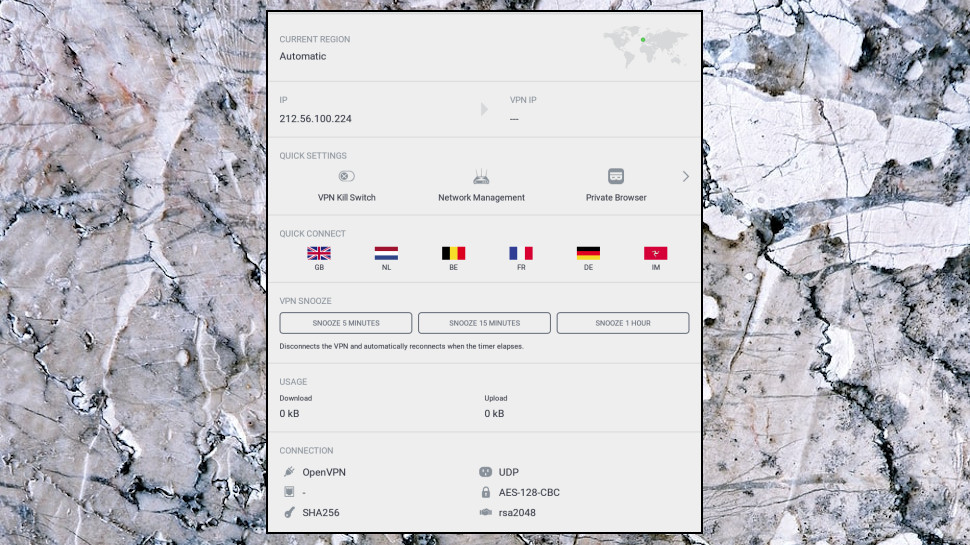 This looks a little cluttered, but as with the Windows app, it's easily customizable. If you'll never hit the Snooze button and don't need to know you're using AES-128-GCM every time you connect, you're able to hide those panels in a tap or two.
Tapping the current region displays a list of other locations. Each one has a latency figure, giving you an idea of its distance, and a simple favorites system enables moving your most-used servers to the top of the list. It's all very easy to use.
The app is surprisingly configurable, with more options and settings than many desktop VPN clients. WireGuard and OpenVPN support, auto-connect when accessing Wi-Fi, a kill switch, split tunneling – it's all here. You can even have your handset vibrate to indicate when you're connected, far more convenient than the usual notifications.
As with the desktop builds, PIA's Android app is very well put together, and a nicely judged mix of power and ease of use. Recommended.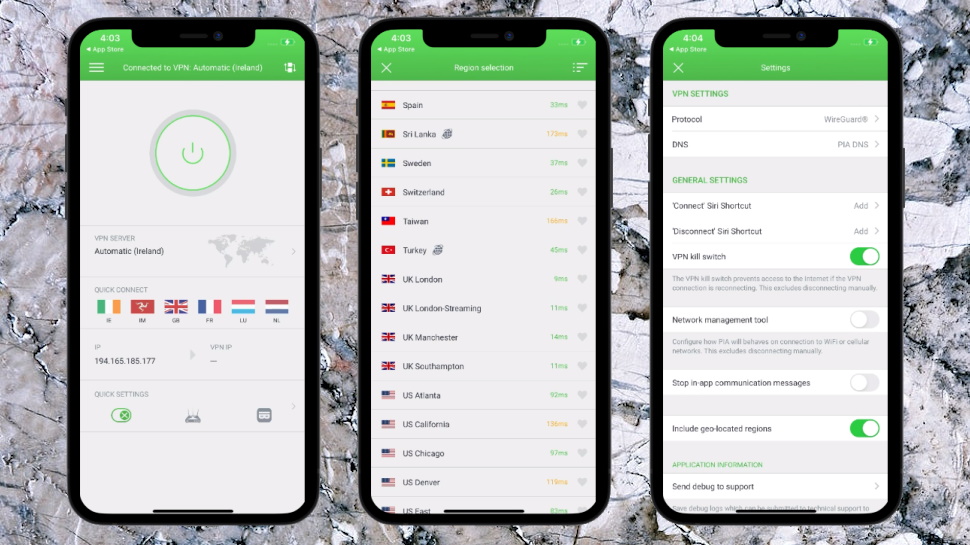 iOS app
PIA's iOS app looks and feels much the same as the Android version. It sports a stylish interface, capable location picker with server latencies and a Favorites system, and an array of customization options to make the console look exactly as you'd like.
There are a decent set of options and settings, especially for an iOS app. You get a wider choice of protocols than the desktop builds (WireGuard, OpenVPN, IKEv2), the ability to choose UDP or TCP connections, set a custom port, use your favorite DNS, or take fine-tuned control over encryption and enable a kill switch to protect you online.
An Automation pane makes it easy to set particular networks as trusted or untrusted, and instruct the app to automatically connect or disconnect whenever you access them.
There are a handful of useful iOS-specific features, too, including optional support for Siri shortcuts to connect or disconnect the VPN, and a Safari content blocker.
Overall, this is a quality app, easy to use and far more capable than most of the iOS competition. A must-see for more demanding Apple users.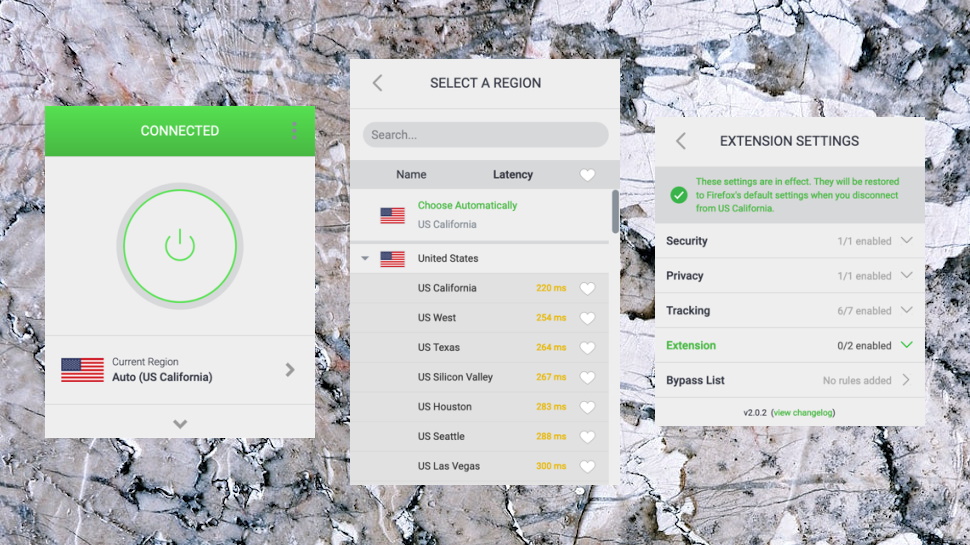 Browser extensions
Using the Private Internet Access apps isn't difficult, but having to keep switching between your regular application and the VPN client can still be a hassle.
Like ExpressVPN and NordVPN, Private Internet Access now offers add-ons for Chrome, Firefox and Opera (there's no Edge coverage yet), enabling you to connect to the VPN directly from the browser interface. This only protects your browser traffic, but if that's not an issue, the extension makes Private Internet Access much easier to use.
The extension looks very similar to the apps, so there's almost no learning curve. A simple opening interface has a big Connect button to access the closest server. The location list reports latencies and has a Favorites system to help you find and save the best servers for later, and you turn the VPN on or off from your browser with a click.
(The location list only has around a third of the countries available in the app. We don't know why, but just in case that matters to you, this is the current list: Austria, Australia, Brussels, Canada, Czech Republic, Denmark, Finland, France, Germany, Hungary, India, Ireland, Israel, Italy, Japan, Luxembourg, Netherlands, New Zealand, Norway, Poland, Romania, Singapore, Spain, Sweden, UAE, UK, USA.)
A split tunneling-type Bypass List enables specifying websites which you don't want to use the VPN. If they don't work as they should with the VPN on, add them to the Bypass List and their traffic will be rerouted through your regular connection.
Bonus privacy tools prevent websites accessing your location, camera or microphone. They're able to stop WebRTC leaks, and variously block or disable Flash, third-party cookies, website referrers, hyperlink auditing, address and credit card auto-filling, and more. Oh, and you can use PIA's MACE to block ads, tracker and malware, too. We've seen dedicated privacy extensions which do less.
All this functionality means there are lots of settings to explore, but on balance the add-ons work very well. If you're looking for simplicity, you can just choose a location and click Connect, much like any other VPN extension. But more experienced users can head off to the Settings area, where they'll find more features and capabilities than just about any other VPN browser add-on we've seen.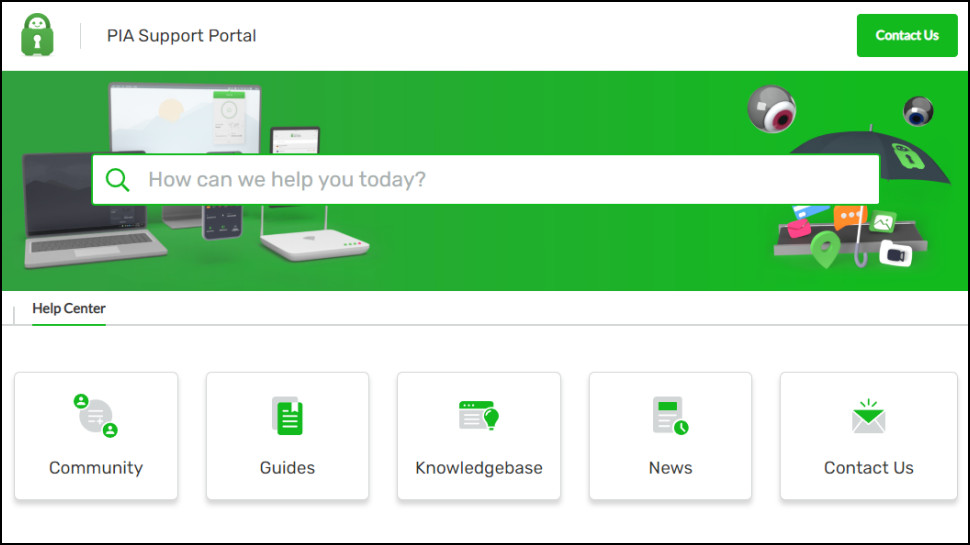 Support
The Private Internet Access Support Center has a web knowledgebase with articles covering troubleshooting, account problems, technical complications and more. These don't always have the detail you'll see with ExpressVPN or NordVPN, but they're not just bland descriptions of app features, either.
For example, a 'Security Best Practices' article gives users some technical (but very accessible) background on encryption, authentication and handshaking methods, and more.
A Guides section has setup articles and tutorials for all supported platforms. Some of these are relatively basic, but there's still a lot to explore, with, for instance, 12 articles on Android alone.
Entering a keyword or two in the Search box gets you a list of helpful articles. This didn't always work as expected, often displaying articles that weren't in the current website language. But it's improved since our last review, and you should find what you need with minimal effort.
A handy News page regularly alerts users to new servers, app updates, service issues and more. That could save you lots of hassle all on its own if you see your current problem is some known system outage, and that you don't have to spend time contacting support or trying to diagnose it yourself.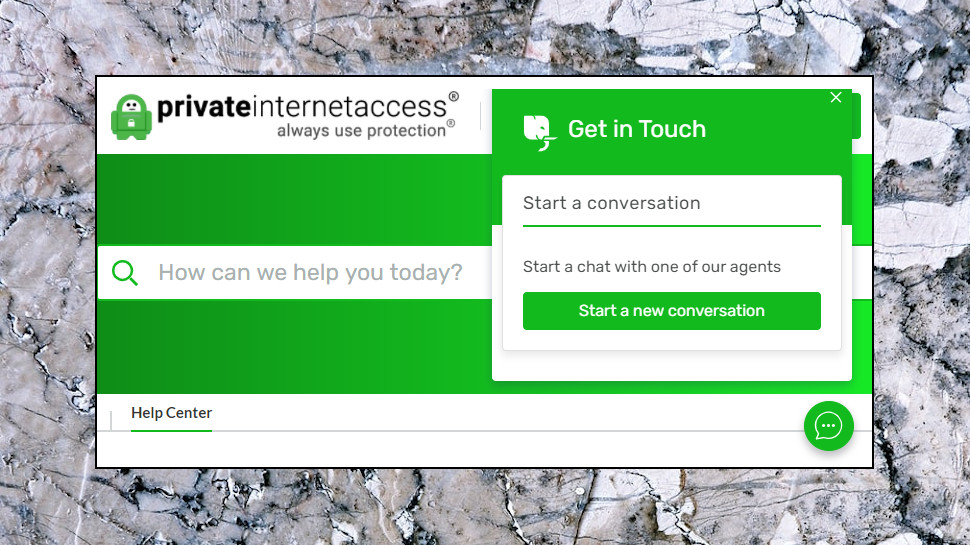 If you can't solve your issues online, PIA now offers support by live chat as well as email. We opened a chat session and asked a potentially tricky question about the old authentication and handshake options which were dropped in a previous update.
Would the agent know the product in that level of detail, especially with a change which had only just happened? Yes, pretty much – the agent didn't give us any real technical details, but explained they'd been dropped and pointed us to a support page where we could learn more. That's as good a reply as we'd expect from any provider.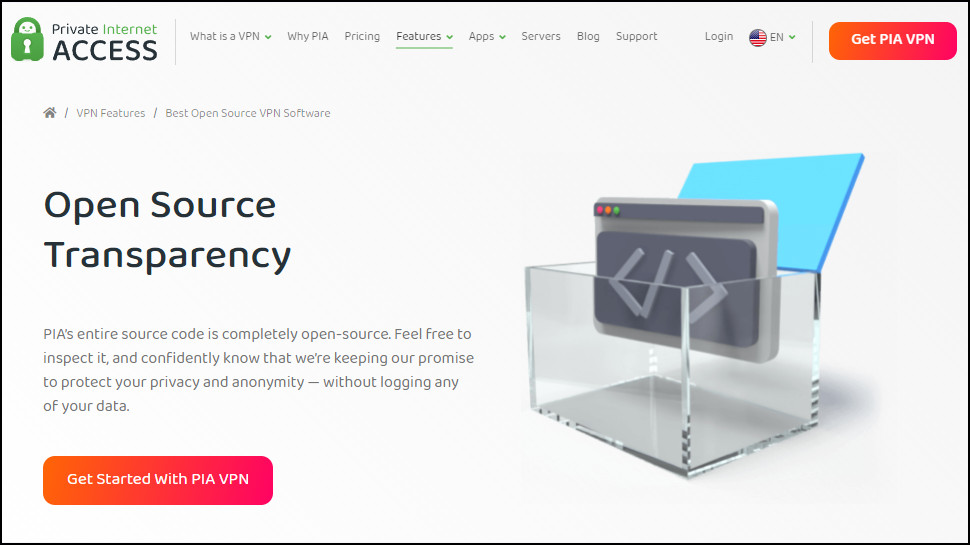 Private Internet Access review: Final verdict
Private Internet Access speeds are relatively ordinary, but it excels everywhere else. PIA runs on almost anything, is easy to use, crammed with advanced features, unblocks Netflix and almost everything else we tried, and all for less than a quarter of the price of some of the top competition. Go take a look.